This has only happened to me once before. I'm having one of those "
someone is wrong on the internet
!" moments.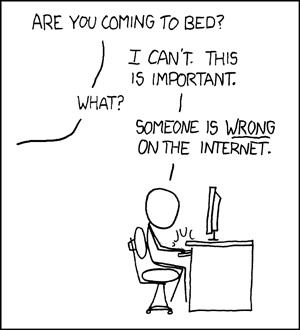 The fact that I'm even casting it in these terms tells me that I should just step away from the keyboard. But instead — oh, academic training!* — I'll turn it into a quandary: How and to what extent does someone jump into a conversation on a blog where she has some expertise in a related area, and clearly more expertise in it than the people who are blogging, whose expertise is ostensibly a) in the field of the blog topic but not in the ancillary cultures, and b) masters' and early-PhD level?
It was kind of a running joke in graduate school that I was "Capital-N, Capital-A, Not an Art Historian." After my qualifying examinations (all of which I passed easily, a caveat that is worth making given where this anecdote is about to go), one of which was in Islamic art history, the examining professor commented that it was as though I was doing art history by deliberately sidestepping as much of art history as possible.
With my art history issues disclosed, I pose the quandary again, this time in more concrete terms: A blog has been advertised on one of the list-serves that I'm on; specifically, they were calling for guest posts. It's a
medieval art history blog
written by what looks to be a group of students mostly at the University of Edinburgh. Don't get me wrong. I'm not picking on students. I think that what they're doing is pretty cool and a great way for them to write in a low-stakes forum but for a public audience while still in grad school, something I definitely wish I'd had as a student. The kinds of questions they're asking when they
write about Islamic art
are definitely not the sorts of questions I'd ask, but then again, there's room for all sorts of questions in this world, and plus, I'm a Not an Art Historian.
There's one post, though, that sort of alarmed me, but I'm not sure what the etiquette would be in commenting on it. It's funny. I'm not quite but almost part of the digital native generation, a perch that gives me the unique perspective of being totally comfortable with technology like the natives but also actually understanding pretty well how it works rather than just expecting it to work, like the non-natives, especially those who used, say, early DOS machines. In spite of this, digital etiquette is something I still struggle with. I'm as unclear on protocol for
academia.edu
as I was when I wrote
this post
a little more than a year ago. And in this situation, I'm not sure whether it would be okay to just randomly comment on this blog. It's a students' forum, so I'm inclined to say I don't really belong. Plus I'm not sure whether one can just start commenting on a blog to which she has no prior connection.
And yet... there's this
post about teaching Islamic art to high school students in the American south
, a region where I think it's particularly important to reduce some of the "othering" of Islam and Muslims that often happens in American discourse about the faith and its practitioners, particularly in more conservative and less diverse circles. I would really want to encourage this person not to, even implicitly, teach her students that Muslims worship a god called Allah, which just happens to be the Arabic word for God and is used by Arabic-speaking Christians as well as by Arabic-speaking Muslims. I'd want to encourage her not to use dictionary.com to define technical terms in Islam and point her, perhaps, instead, to the Encyclopaedia of Islam and to some specific scholarship that was written less than 100 years ago.
So. I'd love to hear from some of you who write and/or comment on academic blogs: Do I weigh in or let it go?
*Well, it's being an academic combined with the fact that I'm up in the middle of the night combined with the fact that I just haven't had all that much to say here of late that's turning this into the subject of a full-on post.